THE BEST MUNCHIES FOODS TO EAT AFTER A SMOKING SESH
Who doesn't enjoy that special moment after you're done smoking with your friends and open a bag of Cheetos and indulge your munchies? Or maybe you're smoking alone and decide to succumb to your sweet tooth's wishes when no one is looking and eat anything that's covered in chocolate?
We all know how imagination and creativity can flourish when high. Mix that creativity with the munchies and it's easy to feel like Gordon Ramsey. So if you are in the mood to create a dish to cure the munchies, here is a list of the best munchies foods to eat after a smoking sesh.
MARSHMALLOW S'MORES TREATS
S'mores may be more famous around the campfire, but when the munchies get you, this marshmallowy goodness is a great snack to keep you satisfied. It's a quick recipe, all you need is some marshmallows, chocolate and any type of cookies. Make little marshmallow sandwiches, cover them in chocolate and throw it all in the microwave. This is perhaps the quickest recipe for those cannabis induced chocolate cravings. You'll have it all ready to eat in just 2 minutes.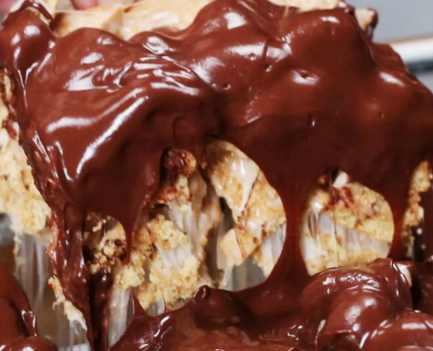 MINI NUTELLA CROISSANT
Mini Nutella Croissants is another sweet and easy meal to make. With one big puff pastry dough you can make up to 8 croissants, so you'll have food to share with your smoking buddy or a big portion to keep for yourself. This snack once started a craze on twitter with people posting their favorite meals for the munchies. One happy smoker even started snapchatting his amazing cooking process and sharing it with stoner community.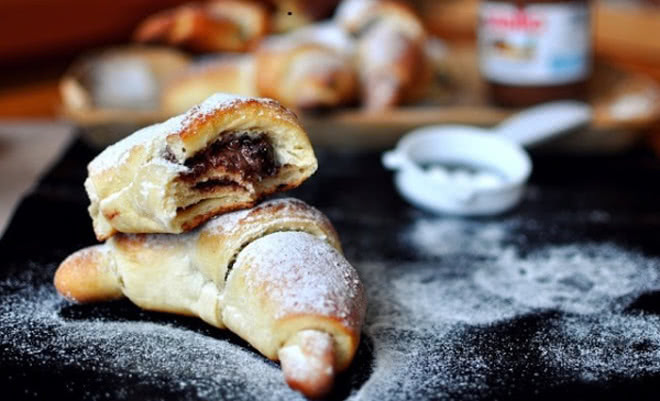 CHEESY PIZZA ROLL-UP
Pizza is love, pizza is life… This variation of your favorite dish is dead-simple and absolutely delicious. In this munchies classic, you can use a lot of different ingredients but if you just stick to the essentials you're guaranteed to have a great meal. If you smoke a lot (and don't care about cholesterol) this is a great dish to have as a "go to munchies food". That way you can find your perfect flavor combination and forever keep your munchies at bay.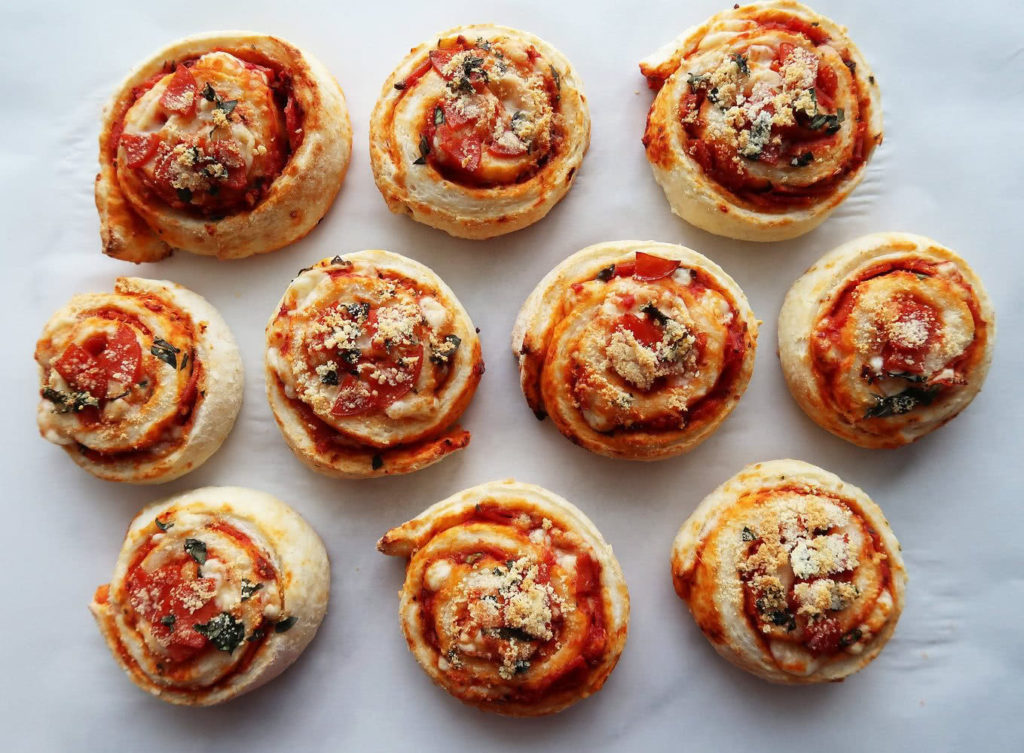 DORITO CHICKEN TENDERS
Doritos and chicken? Yes, please! This is a quick and easy to make munchies snack. Though it may sound like a lot of work, it actually only takes around 20 minutes to make the dorito covered chicken tenders.
All you have to do is, cover chicken tenders in crushed up dorito crumbs, put them in the oven and wait for them to get cooked through. Add your favorite dipping sauce and your munchies will be contained.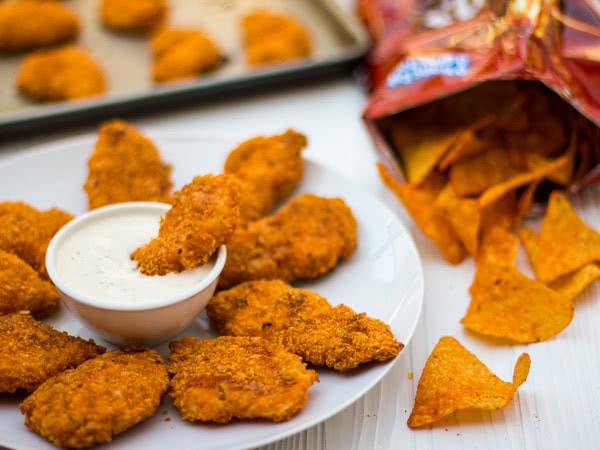 CHEESY FRIED HOTDOGS
This snack is especially good considering that you can freeze the hotdogs and cook them up whenever you feel like. The cheesy fried hotdog is essentially a deep fried hotdog stuffed with mac n' cheese. If you think that sounds delicious you should pre-make some and keep them in the freezer in case the munchies sneak up on you.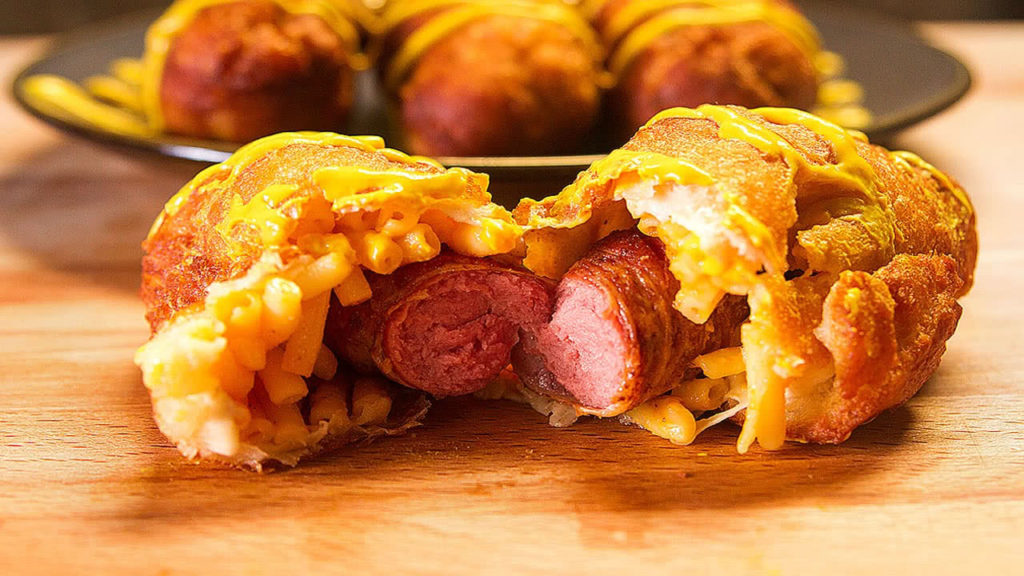 PIZZA POPCORN
Do you think that there's no way to make a really good snack by just mixing everything together in a bag? This recipe is here to prove you wrong.
Easy to make and ready to eat as soon as you're done shaking up the pepperoni, parmesan and popcorn extravaganza. Just make some popcorn and add all the ingredients that you would put on your favorite pizza right in the bag and shake.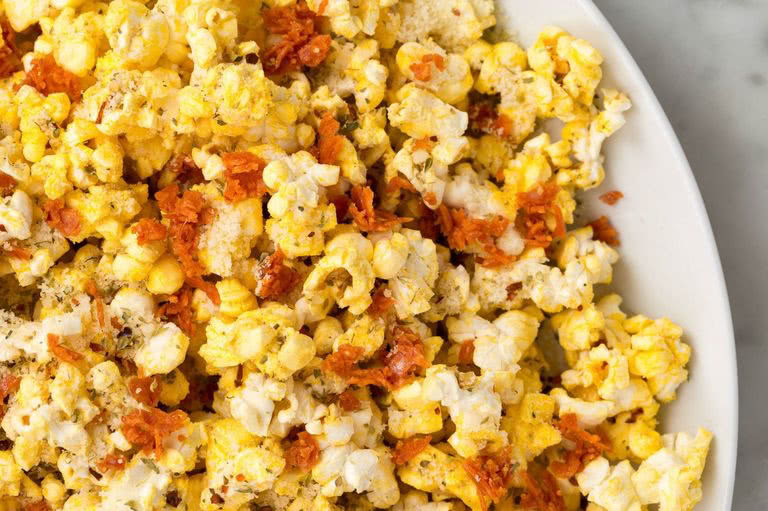 GIANT MULTI-FLAVOR COOKIE
What's not to love in this recipe? Blend all your favorite cookies into one huge cookie masterpiece. Get all your favorite cookie doughs from the nearest supermarket and piece them together into one giant cookie. Create your perfect combination of flavors and eat your way into the center where all the flavors combine into an explosion of culinary pleasure.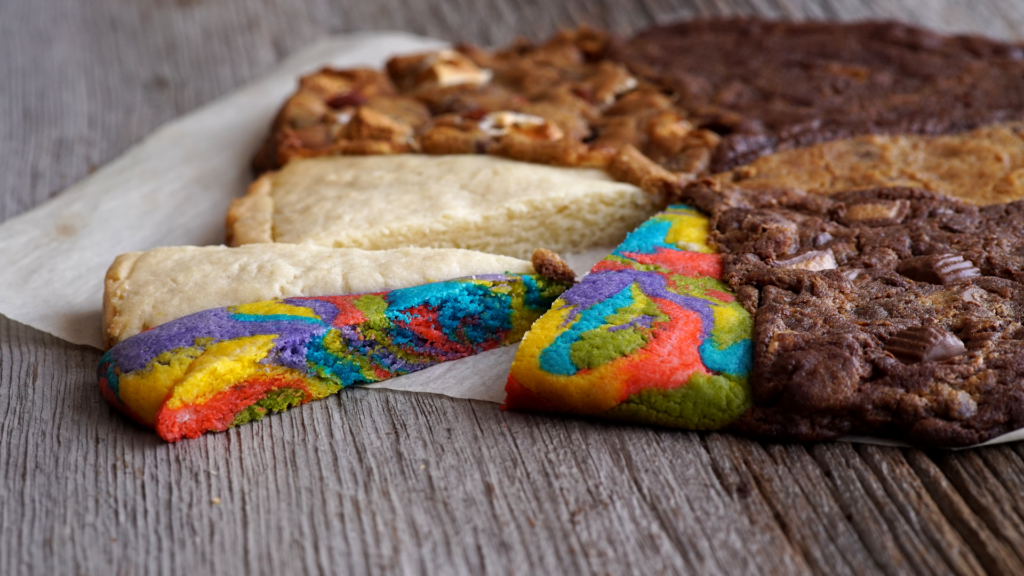 SAMOA BROWNIES
Few things beat brownies, and even fewer things beat brownies covered in chocolate and caramel sauce…
Just get a brownie mix and follow the directions on the box. When it comes out of the oven, drown it in chocolate and caramel and give it a dusting of coconut flakes. If you want to go even further, you can make these brownies with cannabutter and get a really nice high out of them.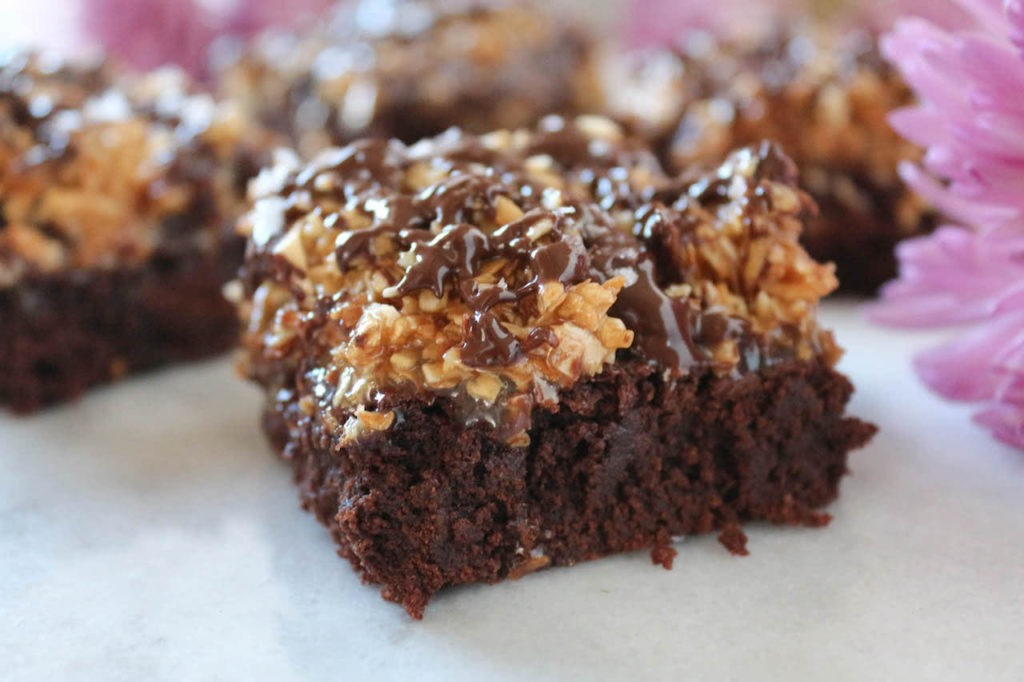 RAMEN CARBONARA
If you have a pack of ramen noodles and bacon lying around, don't miss your chance to create a variation of this Italian classic.
Just cook ramen according to the directions and fry up the bacon in a pan. Then you mix the bacon and ramen with an egg yolk and top with grated cheese. This dish is quick to make and absolutely a great munchies food.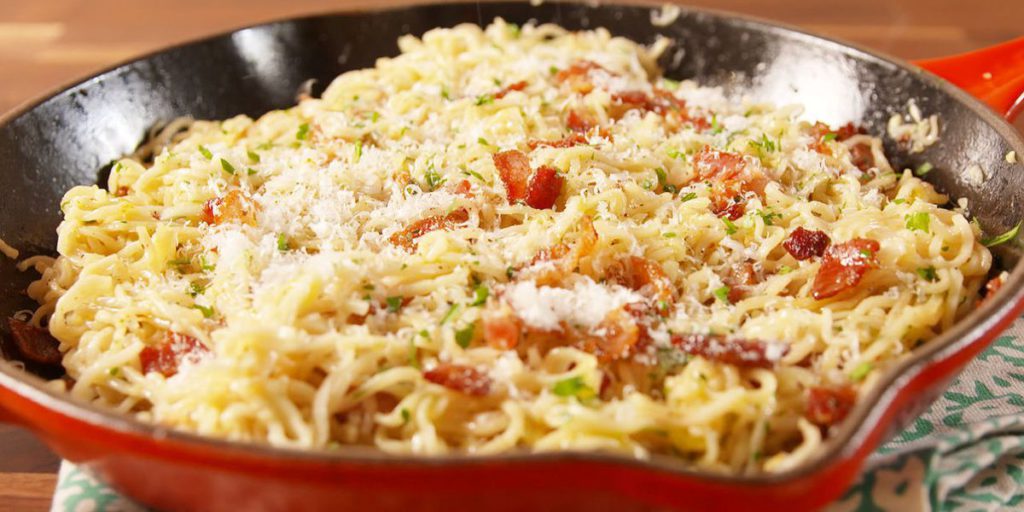 HONORABLE MENTION – TACOS & TREES
We could not leave Tacos & Trees out of this list. The geniuses behind Tacos & Trees had the great idea of creating a cannabis delivery service and pairing it with perfect munchies food.
They deliver high-quality cannabis to the SF, Mission District along with steaming hot tacos, so once you're fully blazed you'll have a taco ready to eat for when the munchies hit. Genius!