Let your inner mixologist shine with Purejuana!
Purejuana is an all-natural "dry spirit" THC powder crafted from live frozen cannabis extract that dissolves into any beverage of your choice. A breakthrough industry innovation, Purejuana preserves naturally occurring terpenes allowing you to experience the pure essence of the flower and enjoy a smooth, rapid onset. Purejuana is the perfect addition to your at-home beverage cabinet to complement classic cocktails or a craft creation of your own. Available in 2.5mg, 5mg, and 10mg dosage options.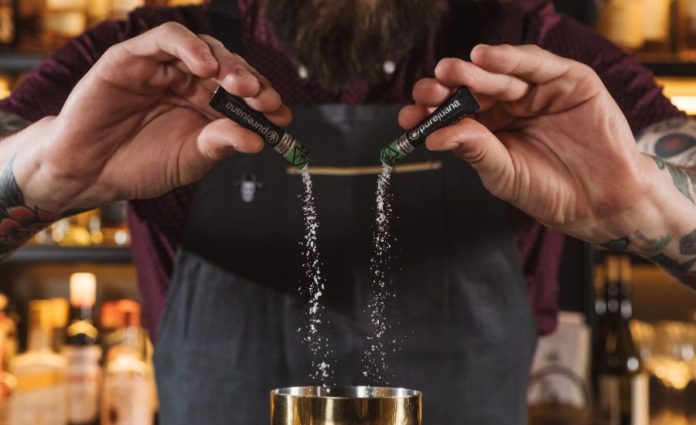 Super Lemon Drop
1 Super Lemon Haze Purejuana Packet (dosage of your choice)
1.25 oz fresh lemon juice (juice of about one medium-sized lemon)
¾ oz simple syrup
2.5 oz club soda, chilled
Ice
Sugar (to rim)

Place a small pile of sugar on a plate. Take a martini glass and wet the rim with a sliced lemon wedge. Dip the moistened rim of the glass in the sugar. In a cocktail shaker, add ice cubes, simple syrup, lemon juice, and the contents of the Purejuana packet. Shake for about 15 seconds or until Purejuana is dissolved. Strain into the sugar-rimmed martini glass. Top with club soda, then garnish with lemon peel.
Blueberry Dream Mojito
1 Blue Dream Purejuana Packet (dosage of your choice)
½ oz fresh lime juice (juice of about ½ a lime)
1-2 tbsp frozen lemonade concentrate
10-20 fresh blueberries
6-8 leaves fresh mint
2 oz coconut water
3 oz club soda
Ice

Place lime juice, frozen lemonade concentrate, blueberries (leave a few out for garnish) and mint leaves into a glass. Gently muddle blueberries and mint leaves. Empty the contents of the Purejuana packet into the glass and stir until dissolved. Add ice cubes to the glass, top with coconut water, then club soda. Stir. Garnish with blueberries and mint.
We're SO stoked to have Purejuana on our menu and in our Summer Collection. Get yours á la carte or click the button below!